LOW VISION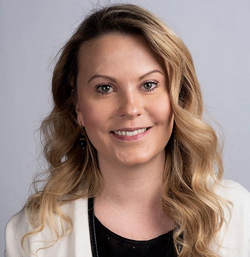 Nicole Ross, OD, MSc, FAAO, says that the college's teams had to convert research into practice quickly. "Certainly, complex refractive needs or issues need to be addressed in the office. But our previous research indicates that telemedicine visits are feasible for follow-up and device training visits. Indeed, to gain the highest level of outcomes, consistent follow-up visits may be important. But it's not always possible for these patients to travel to the location," she says. Dr. Ross is an associate professor at NECO and attending OD at the school's Center for Eye Care and at Perkins School for the Blind.
Interestingly, she also saw advantages to doing visits over a telemedicine platform. "I can see the patient's surroundings. I have a better sense of the goal and the context for how to achieve that," she says. For example, while the patient may have described in the office that reading in the afternoons is the goal, "now I can see where the favorite chair is and what the lighting is."
Immediately feasible applications for telemedicine are that doctors can follow up with patients on the adaptation and effectiveness of near reading aids and also review how patients are using devices. "I can see how the patient is using a magnifier," she says.
In the future, some combination of virtual reality and telemedicine could become a game-changer for both seniors and also younger patients. "Telemedicine has also provided the opportunity to check in on how are visually impaired patients are coping during this crisis: do they have someone who can go to the grocery store for them, do they still have access to a home care nurse, do they have family support? Perhaps they need a talking glucometer or some way to check their blood pressure during this time when they're not having family come in. We can be part of the team making sure they have the appropriate supports in place to be as independent as possible."
After the COVID-19 pandemic concerns are past, Dr. Ross is looking forward to again being part of a clinical trial on telemedicine. But these months have shown her and patients that there's no waiting on providing telemedicine services. "Patients have needs that must be addressed."