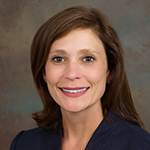 When Leslie O'Dell, OD, opened the doors to Medical Optometry America – Shrewsbury, Pennsylvania, on Jan. 4, 2020, it was a dream more than five years in the making. Dr. O'Dell had long wanted to open a private practice—and had been moving in that direction by opening a dry eye center inside an existing optometric practice. But the learning curve of starting up, marketing, equipping, purchasing and ongoing management of a full-scope medically focused practice was steep.
When Medical Optometry America (MOA) approached her in 2020 to become the organization's clinical director, the opportunity was exactly what she hoped for. In her position, she has been able to collaborate with MOA leadership, including Jim Thimons, OD, to curate the best practices for disease management to be implemented in every future MOA franchise location. These include technology and sequence of testing. Currently, best practices protocols exist for dry eye, surgical co-management, macular degeneration, glaucoma management and eye care for patients with diabetes. More are coming, she says.
She was also involved in nearly every step of opening the first MOA location. A second is currently under construction in Chantilly, Virginia, about 25 miles west of Washington, D.C.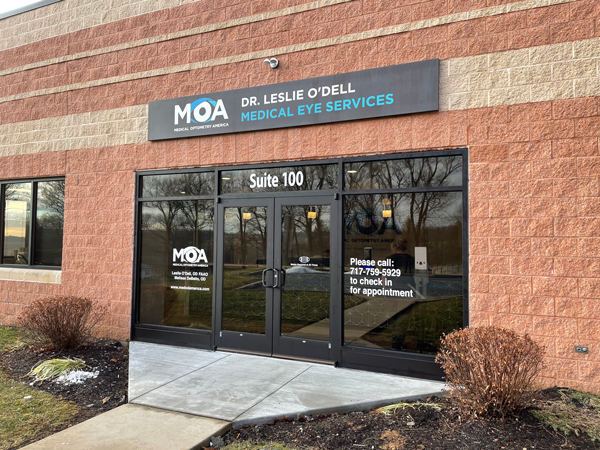 MEDICAL FOCUS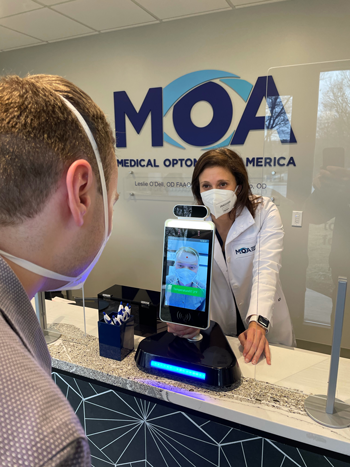 As the organization's name implies, the focus at MOA is strictly on medical. There is no optical dispensary, which makes entering an MOA facility different from the very start. However, the practice does have retail products for sale, offering PRN nutraceuticals, dry eye products with Eye Eco and Eyes Are The Story cosmetics, a bio-beauty line that Dr. O'Dell has been involved with since its start.
"We were building after COVID-19 had arrived, so we were able to reinvent some elements of patient flow from the start," she says. For example, a high-tech kiosk registers the patient's temperature and confirms that the patient is wearing a mask. Acrylic dividers add a layer of protection for staff and patients at the front desk. Each doctor, tech and scribe have her own (at the moment, it's an all-female workforce) laptop and cart on wheels, so there are no shared computers.
Here's a brief video from Dr. O'Dell, where she introduces the space and many of the features mentioned above.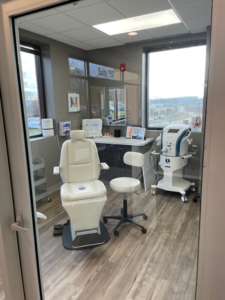 The Reichert Phoroptor VRx allows for physical distancing during the automated refraction process, as do the cameras. Dr. O'Dell has spent years developing her expertise in dry eye, and she is able to build on that referral base even more here. The dry eye center includes an intense pulsed light (IPL) system, a technology she has been wanting to add to the treatment options for dry eye, meibomian gland dysfunction and blepharitis, in addition to gland clearing treatments with both Lipiflow and the Tear Care system. To enable glaucoma co-management, she has an OCT with angiography as well as a FMAT 1 instrument that measures eye pressure and outflow of fluid and pressure to the ciliary artery and corneal hysteresis with ORA. "This is an incredible resource, and we feel fortunate to be one of the few practices of any kind in central Pennsylvania to have this system," she says.
Watch video of Dr. O'Dell introducing various aspects of the MOA facility and diagnostic technology.
MOA took another page from the design of a medical practice with the addition of a consultation room. There, doctor and patients can discuss treatment options outside of the exam or treatment space.
NETWORK SUPPORT
"So many of us have the desire to be our own boss, and I know many doctors in private practice who have been super successful. But I don't have the IT or marketing knowledge or the negotiation skills to start up a practice on my own, and that's something that MOA offers," she says. The organization has developed a model—no vision plans but credentialing doctors with most medical plans—for example. And as the network grows, the marketing being developed for the first MOA locations will be applicable to others.
As both the MOA clinical director and its first practicing location, Dr. O'Dell has learned so much about leadership and the business of operating a practice. She's in charge, but she's not alone.