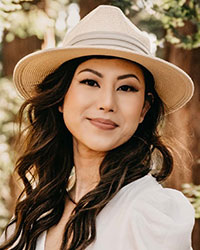 When Anna Lam, OD, became a mom in 2021, she says that her perspective on how she spent her time began to change. She was still very passionate about her career in optometry, yet she decided she was ready to invest in another area of interest: cosmetics and permanent makeup. After receiving training from a licensed professional in December 2021 and spending many months practicing, Dr. Lam recently became certified in the ombré powder technique of cosmetic brow tattooing. She's also obtained a Body Art Practitioner license, required in the state of California to perform permanent cosmetics.
Dr. Lam also recently made another major change in her optometry career when she joined the team at Luminance Vision in Lafayette, California, to specialize in dry eye treatment and switched to a part-time schedule. She had returned to a full-time schedule after her maternity leave, but it wasn't aligned with spending enough time with her son. "I was gone from 8-6, and I missed a lot of the little things that happened during the day," she says. "He was like a different kid."
She spoke with Women In Optometry about making time in her life to be a mom while still achieving a fulfilling career that helps patients and clients. "I just recently realized that I could have multiple passions that I could pursue," she says. "Optometrists have a good opportunity to play a role in beauty and health care as ocular aesthetics start to grow. Appearance is so important; if patients have red, itchy, watery eyes, they aren't confident, and they don't feel great. We can make a difference in that for them with education about ocular surface disease." She sees her newest venture having a similar impact. "Permanent makeup can make a positive impact on people's lives and empower them to be their best selves and feel more confident and beautiful."
FROM TOUCH-UP APPOINTMENT TO STUDENT
Dr. Lam had her brows tattooed in 2016 in southern California. "I was a victim of the thin, over-plucked eyebrow trend of the '90s" she says. "It was something I was self-conscious about, and I loved the result from my brow tattoo. It was a small thing that really boosted my confidence, helped me feel more put together and made my day easier when getting ready." During her maternity leave in 2021, she was looking for a local place for a touch-up now that she lived in the northern part of the state.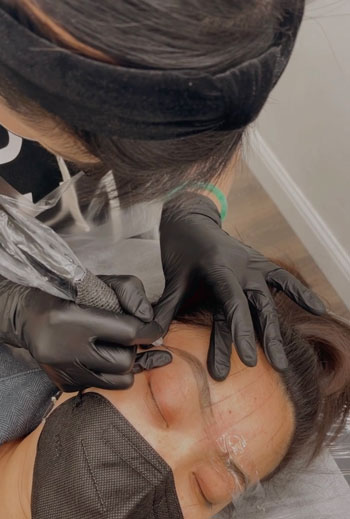 That's when she came across the work of Irene Ignacio and her business, Beauty Method Co., a licensed and registered body art studio in Dublin, California. "Her work was beautiful, and I set up an appointment and saw that she also teaches her technique." It was an avenue Dr. Lam had considered—but had not pursued—since her own permanent cosmetics experience. But the timing was different now. "It was like a sign: there was a class, and I had the time to take it now," she says. "The brows are such a prominent facial feature and play such an important role in facial expression," Dr. Lam says. From helping fill in brows in scenarios like her own experience, to helping clients who had hair loss from alopecia or chemotherapy, Dr. Lam saw the great reward. She decided to take the leap and explore a new impact she could make alongside her work in optometry.
THE LEARNING PROCESS
Dr. Lam enrolled in the three-day training course, which covered technique, theory and science as well as skin types, undertones and color matching first before even getting into practice and actual tattooing. "We practice on latex pads first," Dr. Lam explains. "The ombré powder technique is implanting little tiny drops that look like powder-filled brows without harsh lines." To achieve the powdery look, the technicalities are very precise and harder to achieve than she expected. "Your pressure has to be applied in a specific way to implant the light dots." On the final day, the instructor walked her through working with a live model.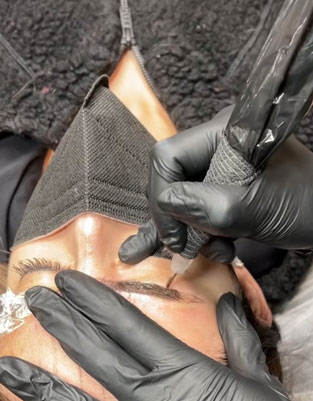 Then she spent about six months after the course practicing as much as possible at home on the latex pads and a mannequin, along with some additional guidance sessions with Ignacio. She earned her certification and license, and she also received extensive training and certification in blood borne pathogens as deemed necessary for tattoo artists by Occupational Safety and Health Administration.
Dr. Lam gives a special thank you to her husband for being such a good sport in allowing her to practice mapping on him, which is the first step in drawing out the brow shape to be sure it is exactly symmetrical and balanced between the two eyes. "He's a great support system; he encouraged me to pursue this and helps me with our son, so I have more time to practice."
Dr. Lam just recently started renting a space at Beauty Method Co. and is excited to build her client base through referrals and on her Instagram page. Her goal is to do this work two days per week with one client per day, since a session lasts between two and four hours. "I can choose my schedule and work as much or as little as I want and be back with my son," she says. She also continues to work a few days a week in optometry.
A VISUAL ADVANTAGE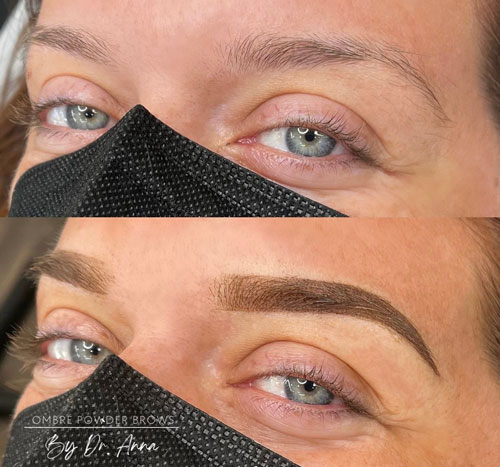 Dr. Lam is used to looking at patients' faces and eyes all day long, and she says that this exposure has been a benefit to her cosmetic brow tattooing because it's easier to visualize the brow shapes she wants to create for clients. "My work in both areas is similar in that my goal with a patient or client is to always identify and fix their pain points," Dr. Lam says. "With optometry patients, I address their chief complaints and come up with a treatment plan for their visual or ocular concerns. With brow clients, they'll tell me what they don't like about their brows—like if they're too sparse, too asymmetrical or too thin—and I map and draw out a solution for them before we tattoo the end result. Overall, at the end of my day, I feel happy knowing my work makes a positive impact on someone's life."
Dr. Lam recommends that anyone interested in permanent makeup finds not only a certified permanent makeup artist, but also a licensed one, to ensure their health is protected.
To learn more or to connect with Dr. Lam, find her on Instagram.
Read other stories on doctors incorporating beauty into their practices.