Overall, the number of optometrists practicing the U.S. increased about 12.5 percent in 2020 to about 58,000, with the number of male ODs increasing 10.7 percent and the number of women ODs increasing 14.8 percent.
The 2021 Women In Optometry (WO) data collected in late January 2021 shows that women comprise 45.1 percent of the ODs practicing in the U.S., Puerto Rico and Guam, an increase from the 44.2 percent found in January 2020.
The percentage of women ODs increased in 38 states; states with smaller populations saw some of the most dramatic increases: Vermont with a 4.9 percent jump, Montana at 4.2 percent and Wyoming at 3.9 percent.
Women now represent more than 50 percent of the ODs in seven states, plus Puerto Rico and Washington, D.C. In 2020, women tipped the scales in five states plus Washington, D.C.
WO has been tracking the numbers since 2012 at the start of each year using healthgrades.com information for those ODs who provide their gender. While numbers vary by reporting agency and licensing board, and while there is likely some overlap from ODs who work in more than one state, the WO numbers are derived through a consistent methodology.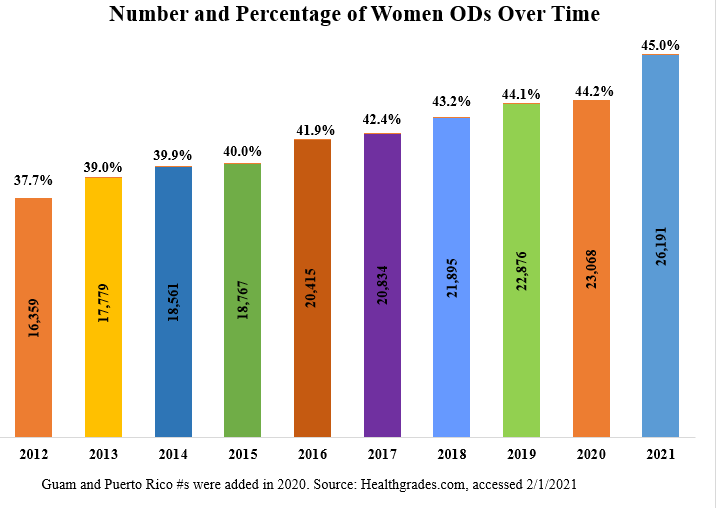 How Many ODs Are There?
Why is it so difficult to pinpoint precisely how many ODs there are in the U.S.? For one thing, people move in and out of the profession, and some work in multiple states and multiple locations. Here's a look at the variation in numbers.
IBISWorld estimates that there are 36,723 optometric businesses in the U.S.
The U.S. Bureau of Labor Statistics estimated OD employment to be around 39,420 in 2019.
The Health Resources & Services Administration does not include data on optometrists for a number of states.
A U.S. Census Bureau's podcast from Jan. 8, 2021, says there are 29,000 optometrists in 22,000 locations.
Eyeconomist Richard Edlow, OD, estimated that 2020 optometric workforce would be 44,751.
The 2017 National Optometry Workforce Survey identified 45,033 optometrists; in an Academy at Home press conference, David Health, OD, EdM, president of SUNY College of Optometry estimated the 2020 work force to be 48,196 ODs.
State licensing data includes those who hold multiple state licenses and/or maintain their license but no longer practice. Some state licensing organizations do not ask optometrists to identify their gender.
Do you have different numbers? WO searches continually on how to standardize the data presentation on numbers of OD in practice. In 2019 and 2020, WO noted 44 percent of ODs in practice were women.