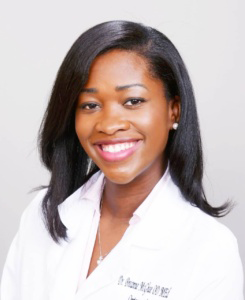 Mornings can be chaotic trying to get four young children off to school. Breanne McGhee, OD, finishes that task before heading out to work in one of the four practices around the New Orleans, Louisiana, area in which she works. During an hour-long commute to one of those locations, she multitasked, sharing her story with Women In Optometry.
Two of her four children were born during her time in optometry school. "Having them in school taught me immediately how to have that balance," she says. "I see folks on Facebook or colleagues who say they don't know if they can get pregnant because they don't know how to balance motherhood and work," Dr. McGhee says. It can be unpredictable, she says. "Sometimes you're potty training or a kid's tooth falls out. There's not much you can plan for; you just roll with the punches." She says she relates to a diaper commercial that shows parents of their first baby cautiously trying to do everything right, and then flashes forward to their second baby when they have more confident yet cavalier attitudes. Dr. McGhee laughed, "When you have your fourth child, you think, 'I love you, but we're just trying to get through this together.'"
She also knows the importance of community when it comes to a successful and healthy, balanced life. Toward the end of her residency, when she found out she was pregnant again, it was a double surprise—twins! "When people say it takes a village, I never really knew what that meant until I had kids. Allow people to offer advice to you," she says. "'Trial and error' should be the slogan for parenthood."
BEING THERE WHEN IT COUNTS
Dr. McGhee also acknowledges her employers and the flexibility they offer her as a working mother. "There are days at school like 'Muffins with Mom.' All my employers are awesome and allow me to be flexible so I can be there," she says. "My oldest son had a Toy Story-themed Mardi Gras parade, and I was there dressed as Rex. I never want my kids to feel like I wasn't there." She spends the majority of her working hours at a practice that opens at 9, so she has time to drop off her kids and chat with their teachers. For Dr. McGhee, it is critical to be a present
parent. "I never want to be that parent who only shows up when something is wrong. I want to volunteer and support not only my child but the school."
TAKING TIME FOR HERSELF
To keep the balance, however, her day cannot be only about work and kids. "Make time for yourself," Dr. McGhee advises. She notes the role of an OD is someone whom people come to with concerns, and, to be complete in that role, she has to address her own needs. "You have to do things you enjoy doing." For Dr. McGhee, she finds joy in trying new cuisines. "I love to go out to eat; I like to try new restaurants." It's a simple experience—one that doesn't require tremendous effort to schedule, but it is meaningful for her.
For ODs and working parents struggling with the balancing act, she advises, "You can be the best mom and the best doctor if you take care of yourself. Get your routine health care. Eat healthy. Exercise. I picked up yoga and dance. I really enjoy those things." While everyone has to work with her own schedule, she stresses the importance of self-care. "Physician burnout is real. Reduce those incidences of stress, and take your own time."