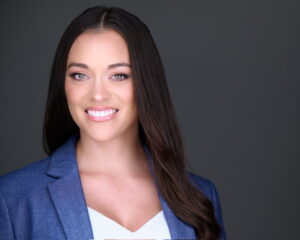 Gabriela Olivares, OD‡, loves a challenge. And by saying "yes" to opportunities that have come her way, she is building her reputation as a savvy provider with an interest in contact lenses and empowering those in her home and professional community.
Dr. Olivares is a South Florida native. Growing up with a Cuban father and a Chilean mother, she feels at home caring for the many Spanish-speaking patients in the community served by The Eye Center, a six-OD practice in Pembroke Pines, Florida. After receiving her degree in molecular and microbiology from University of Central Florida, she attended Nova Southeastern College of Optometry, graduating in 2014. She found her niche at The Eye Center, where her areas of interest include contact lens fittings, dry eye and myopia management. "I love the atmosphere. There's never a dull moment," she says of the busy practice.
DOORS OPENING
In January, Dr. Olivares was asked to bring some new skills to the forefront: speaking at industry events. Johnson & Johnson Vision was conducting a series of sessions on empowering women, and Dr. Olivares was asked to be part of a panel for Hispanic Heritage Month. "This allowed me to view Johnson & Johnson Vision as a strategic partner that supports the profession and community," she says. "I was able to represent the 5.2% of optometrists1 who are Hispanic," she says. It also opened the door to an invitation to become a Professional Affairs Consultant (PAC) for Johnson & Johnson Vision.
Dr. Olivares is no stranger to talking to groups. She is currently the president of the Broward County Optometric Association, which draws about 500 doctors to its annual conventions. She's delivered some CE sessions on ocular diseases, but speaking to doctors and staff members about contact lenses was a new experience. She's been welcomed into the fold by other PAC members, "many of them veterans who have been so helpful. It's also been nice to travel a little and be able to get to spend time with doctors and staff," she says.
These PAC doctors work with the Johnson & Johnson Vision professional education team to provide education to fellow eye care professionals through dinners, multifocal fitting labs and one-on-one conversations on Johnson & Johnson Vision's technology developments. The goal is to improve patient outcomes and allow doctors and offices to be more efficient and up to date on new technologies. "Being able to prescribe excellent lenses will help practitioners elevate the practice. Patients will refer friends and colleagues, and they'll continue to return to the provider who helped them," she says.
LEARNING ABOUT THE LENSES
When it comes to the latest innovations, such as ACUVUE® OASYS MAX 1-Day and ACUVUE® OASYS MAX 1-Day MULTIFOCAL lenses, it's important to understand the nuances and to know the strategies for achieving the best fit. Often, the first step is the simplest: follow the fitting guide.
"I was one of those people who chose my initial contact lens fit by relying on what I thought I knew or what made sense to me," she says, laughing. Now that she has learned more about the design of the lenses and the work that went into creating the fitting guide, she's become a convert. So she's sympathetic when she hears a doctor say that a lens hasn't been working for them.
She offers a few tips – ones that she has now employed as a result of learning about the development, technology, and manufacturing of these lenses.
Refract carefully and then use the fitting guide.
Take steps to avoid overminusing the patient.
Determine eye dominance by the sensory method versus the sighting method. "This has been a valuable tip for me. The sensory dominance method simulates what occurs when we create disparity, which, for presbyopes, we at times need to do to expand the depth of focus. Thus, this method determines the eye with the greater sensitivity to plus defocus. I find this method has improved my fit success and is part of the ACUVUE® fit guide.
In fact, she recently saw a patient whom she had fit with a multifocal lens. When the patient returned, she confessed she wasn't wearing her contact lenses because the experience wasn't great. Dr. Olivares repeated the eye dominance test using the sensory method – and discovered she had gauged this important measure incorrectly. With a new fit based on the sensory method for dominance, rather than the sighting method, the patient is very happy.
She says, "In my personal experience, by following these tips, over 90% of the time, the first pair of lenses has been successful at the first visit.2" In fact, she's so confident now in these fitting steps that she'll tell multifocal patients who start questioning the fit in the office lobby, for example, "'Give it a week. Come back then and we'll adjust if we need to.' So far, several patients have said, 'I'm so glad you didn't try changing the prescription last week. I can see so clearly3.'"
EXPANDING POOL
She is having such good success with ACUVUE OASYS MAX 1-Day MULTIFOCAL lenses that it has expanded her pool of multifocal contact lens candidates. "Even patients who have not been good candidates before are finding that they can wear this lens most of the day with comfort3 and clear vision.3 These lenses are made with a new state-of-the-art manufacturing process.4 The lenses are polymerized from above and below with LED light, which optimizes the distribution of the wetting agent throughout the lens.4,5,6
She tells her patients that the TearStable™ Technology4 and the OptiBlue™ Light Filter* are what make this lens different from other options on the market. "Patients love hearing that there's a blue-violet light filter.* I take time to educate my patients that ACUVUE OASYS MAX 1-Day MULTIFOCAL has 60% blue-violet light filtering,* the highest level in the industry.¶,4,6"
Dr. Olivares tells her multifocal patients that this product by Johnson & Johnson Vision is leveraging their latest material innovations with their unique Pupil Optimized Optical Design,7 with the goal of providing the presbyopic patient the best contact lens experience. Even if patients choose to stay with their previous contact lenses, it's worth the time to educate patients about developments. "I never want to be the doctor who didn't tell my patients about what might help them. If they hear it from someone else, what does that say about my level of care? I lead with what I think will be the most appropriate product for their individual needs," she says. "That's how the practice grows."
As it happens, her enthusiasm for the lens has led to the opportunity to be more engaged with industry. "I wouldn't speak for a company if I were not passionate about the products. But I can talk about these lenses every day, all day."
‡Dr Olivares is a paid Professional Affairs Consultant for Johnson & Johnson Vision.
*Filtering of HEV light by contact lenses has not been demonstrated to confer any health benefit to the user, including but not limited to retinal protection, protection from cataract progression, reduced eye strain, improved contrast, improved acuity, reduced glare, improved low light vision, or improved circadian rhythm/sleep cycle. The Eye Care Professional should be consulted for more information.
¶Versus publicly available information for standard daily use contact lenses as of June 2023.
References:
Optometrist Demographics and Statistics in the US, Zippia. Data accessed July 31, 2023. https://www.zippia.com/optometrist-jobs/demographics/.

JJV Data on File 2022: Stand-Alone Fit Success Claims for ACUVUE® OASYS MAX 1-Day MULTIFOCAL Contact Lenses.

JJV Data on File 2022. Subjective Stand-Alone Claims for ACUVUE® OASYS MAX 1-Day MULTIFOCAL Contact Lenses – Exploratory Meta-analysis.

JJV Data on File 2022. TearStableTM Technology Definition.
JJV Data on File 2022. Effect on Tear Film and Evaluation of Visual Artifacts of ACUVUE® OASYS MAX 1-Day Family with TearStableTM Technology.
JJV Data on File 2022. Material Properties: 1-DAY ACUVUE® MOIST, 1-DAY ACUVUE® TruEye®, ACUVUE® OASYS 1-Day with HydraLuxeTM Technology and ACUVUE® OASYS MAX 1-Day with TearStableTM Technology. Brand Contact Lenses and other daily disposable contact lens brands.

JJV Data on file 2022. CSM- ACUVUE® PUPIL OPTIMIZED DESIGN Technology: JJVC contact lenses, design features, and associated benefits.
 Important safety information: ACUVUE® Contact Lenses are indicated for vision correction. As with any contact lens, eye problems, including corneal ulcers, can develop. Some wearers may experience mild irritation, itching or discomfort. Lenses should not be prescribed if patients have any eye infection, or experience eye discomfort, excessive tearing, vision changes, redness or other eye problems. Consult the package insert for complete information. Complete information is also available from Johnson & Johnson Vision Care, Inc. by calling 1-800-843-2020, or by visiting www.jnjvisionpro.com.
© Johnson & Johnson Vision Care, Inc. 2023 | PP2023AMB6126
Read other stories in Women In Optometry about Johnson & Johnson Vision here.