When Amrit Bilkhu, OD, FAAO, and Manraj Fervaha, OD, look around Northern Sight Optometry now, it's hard to image that just 12 months ago the floors were unfinished and the walls were bare studs. The two former classmates of the Illinois College of Optometry built their Ontario, Canada, practice to focus on aesthetics, patient access and a high-tech start-to-finish experience.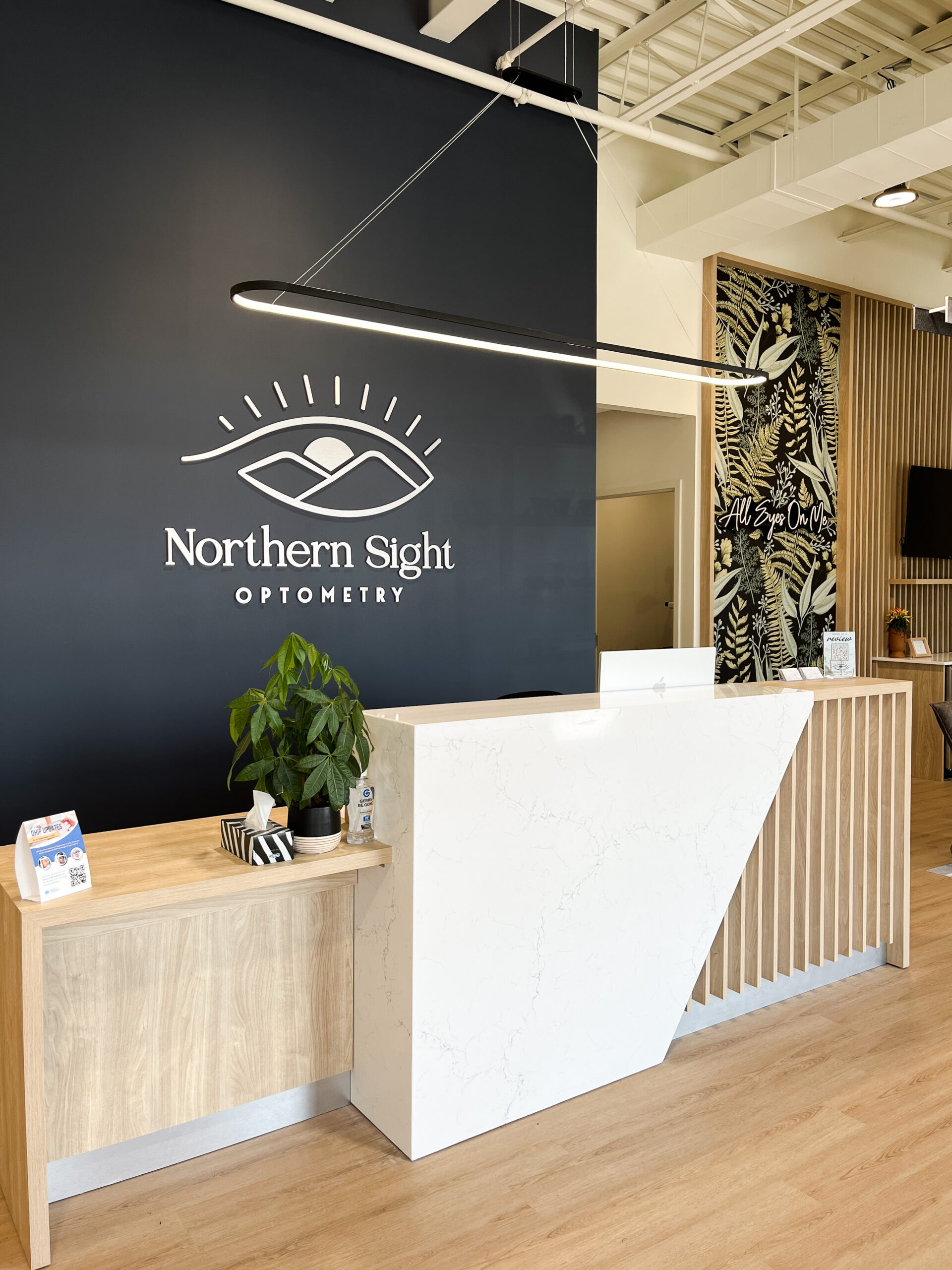 ALL ABOUT PATIENT ACCESS
Dr. Bilkhu says one of her main goals was for people to feel welcomed when they stepped into the office. She chose the colors to reflect positively on patients' emotions and mental health, which is enhanced by the natural light in the reception and optical. She also wanted the entire experience to be as transparent and straightforward, from the very moment patients visited their website.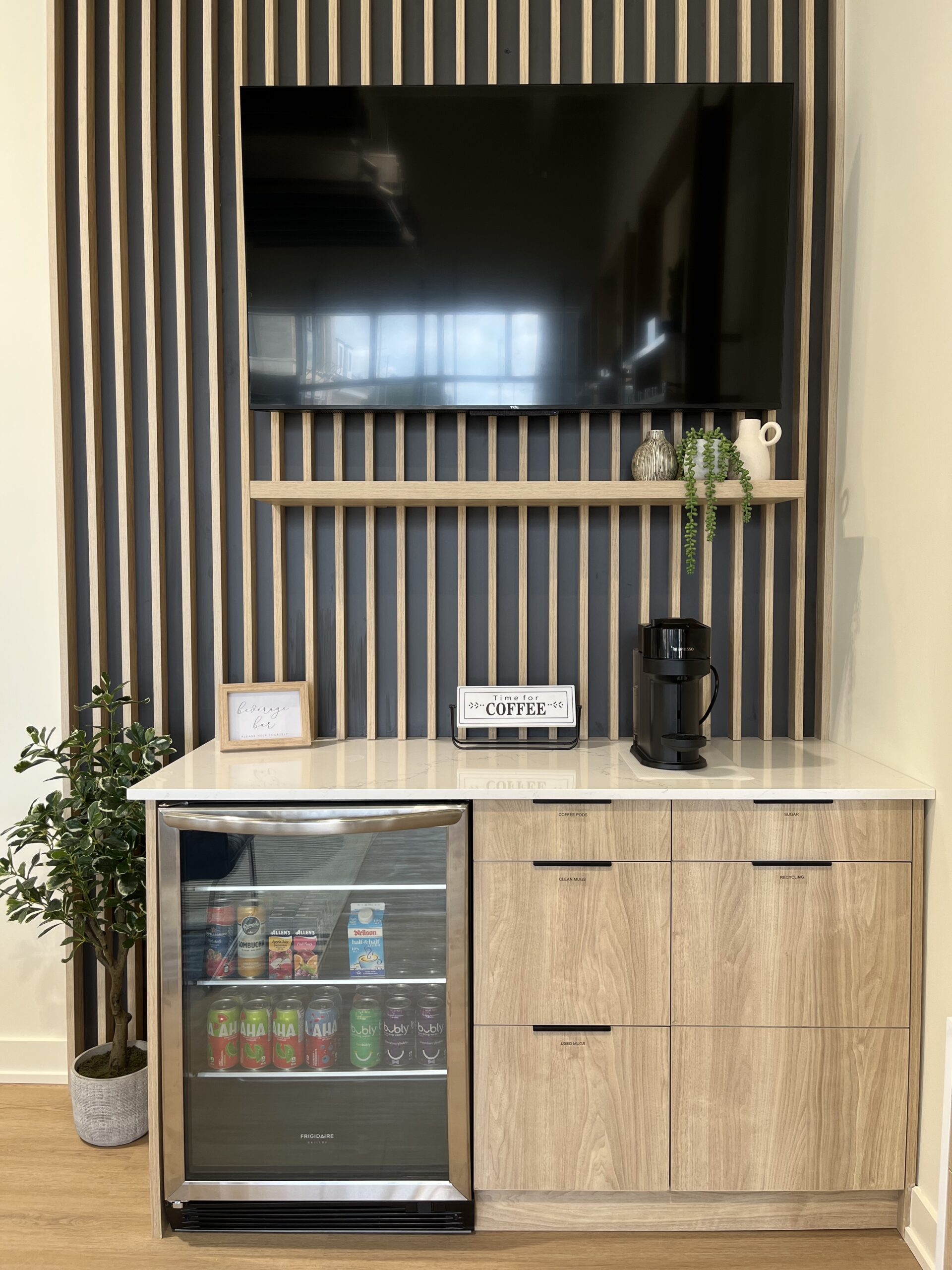 Dr. Bilkhu built the website– with some help from her techy husband– from the view of a consumer. "We knew exactly what we wanted: a user-friendly platform that allowed patients to get all the information they needed instantly without having to call us. No one wants to do that anymore." Patients can schedule all appointments online, including contact lens fittings, diabetic exams, visual perceptual skills assessments and more.
Completing the website not long before construction was completed, Dr. Bilkhu says it was fun to "let my creative side flow. I run all of our social media, too—Facebook, Instagram and TikTok. I'm learning as I go."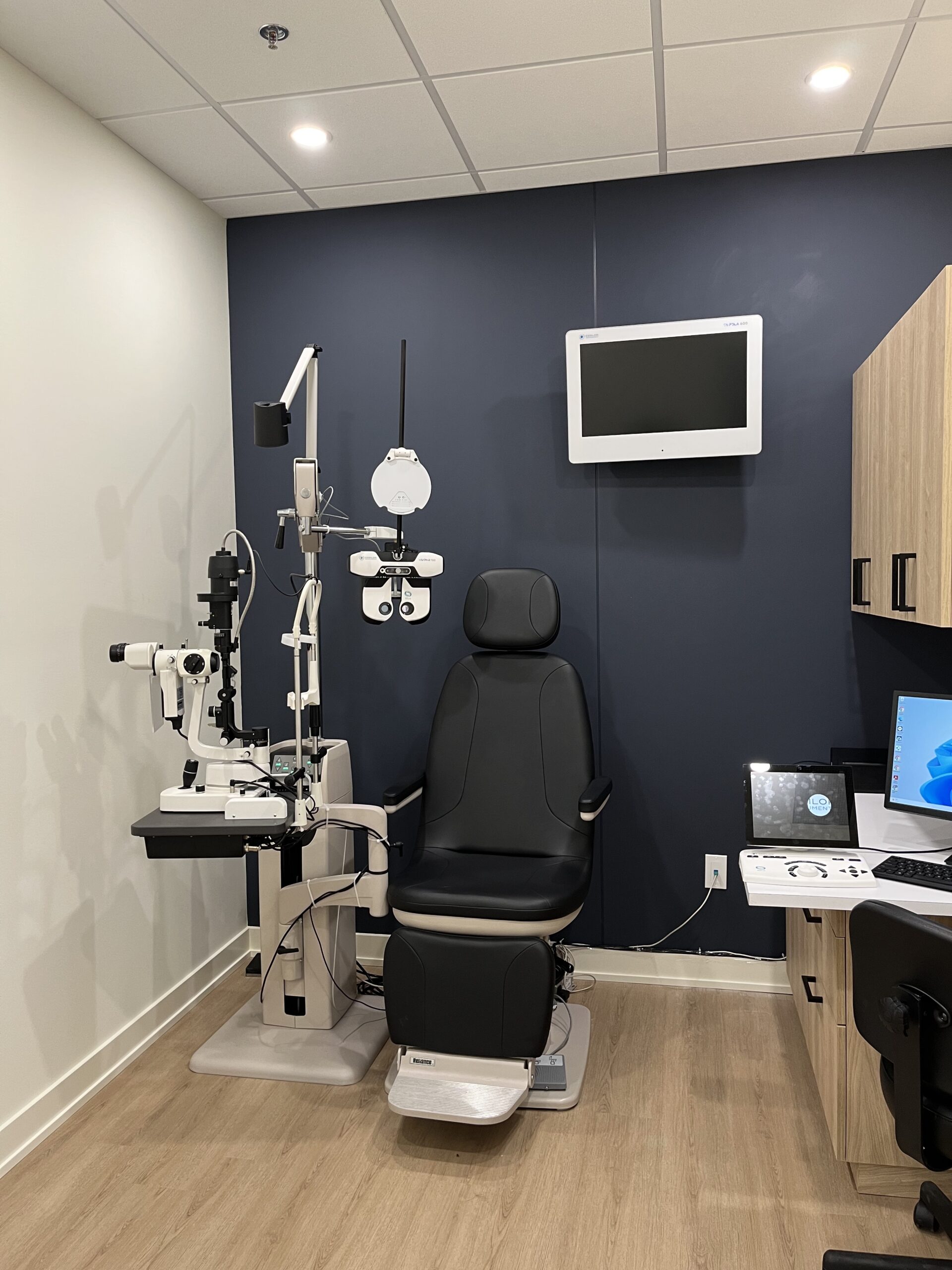 The 2,100-square-foot space, just minutes from Dr. Bilkhu's home, is surrounded by "hundreds of newly constructed homes" and a medical-heavy block of businesses. The practice neighbors a daycare, dentist, primary care physician, pharmacy and physical therapist office, so referrals are expected. She's excited to bring "much needed" optometric care to the growing community that she is also raising her family in.
AESTHETICS MAKE ALL THE DIFFERENCE
The colleagues closed on the space in January 2022 after a year of negotiation with the plaza's landlord. After closing on the last available space for lease in the newly constructed plaza, Dr. Bilkhu focuses on pediatric optometry and vision therapy while Dr. Fervaha handles primary care and anterior segment disease.
The optical space features bright walls and room to display 450 frames. Four exam lanes were built, with one fully equipped and running lane while the rest "are wired and ready to be equipped when needed." The practice also has a staff area, a wheelchair accessible public washroom and a lens edger on site.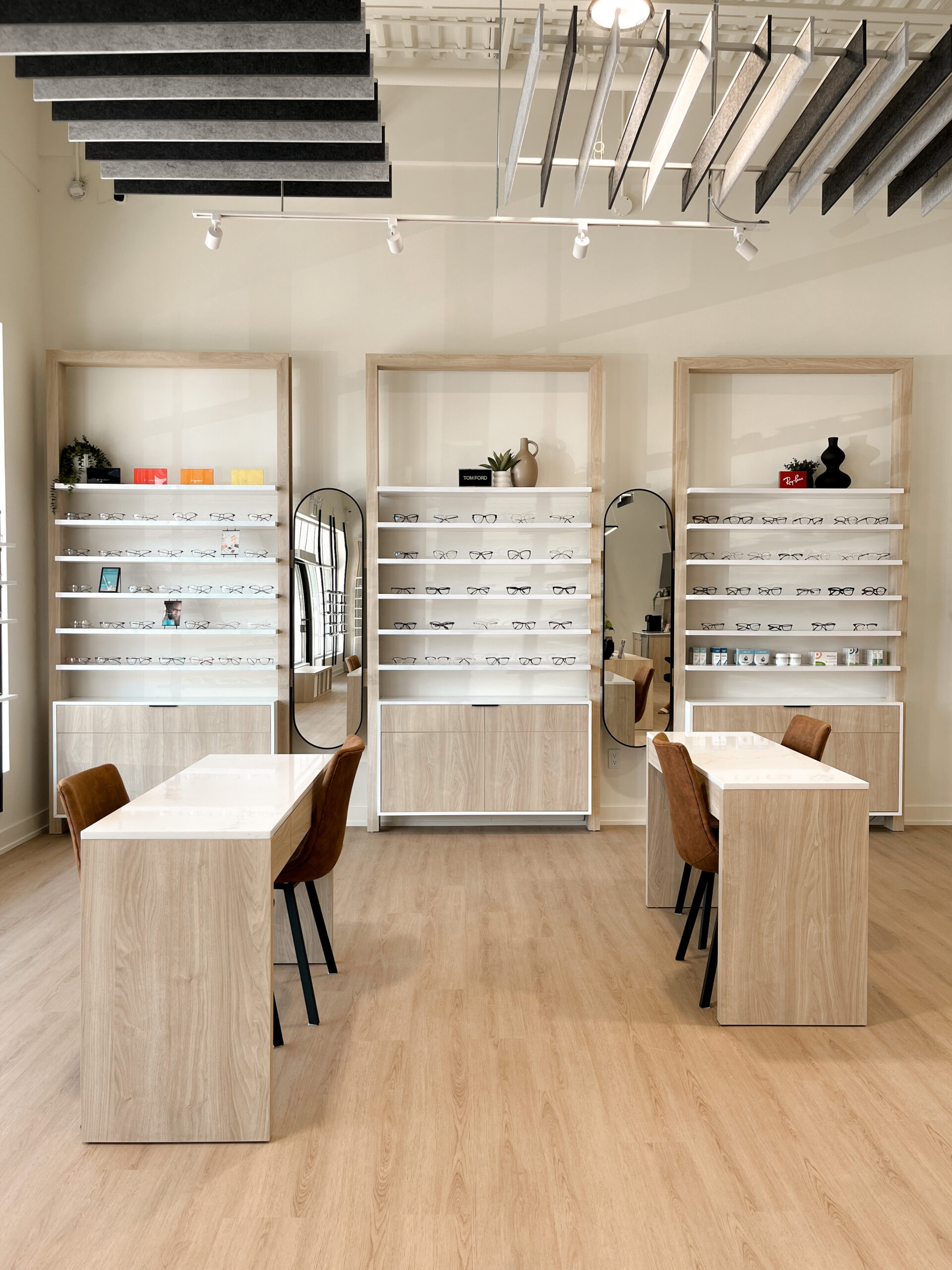 Dr. Bilkhu also worked with Urban Spaces, a design firm in Canada and the U.S. "We worked with the team from start to finish. "There was nothing here at the beginning—they created a floorplan and design and installed plumbing, electrical and frame boards. They took my vision and made it a reality."
Dr. Bilkhu also took advice from her interior designer sister, who gave her furnishing ideas such as finding chairs with a "chic distressed look" to avoid obvious wear and tear in the near future. The reception desk was designed and built by Urban Spaces out of natural wood and marble. They also found a machine washable rug on Wayfair for the optical, which Dr. Bilkhu says "is a must for the winters in Toronto."
The practice also features an "Instagrammable wall," something Dr. Bilkhu says was "huge" for marketing in today's online world. "Younger patients will drive to places that look aesthetically pleasing on their feed, like a pizza place with a cool neon sign," she says. "Now, patients can take those fun photos in our office, too."
A MODERN EXPERIENCE
Dr. Bilkhu graduated from optometry school in 2019. As a recent grad, she wanted her new practice to reflect the updated technology and equipment now available to optometrists. From a handlheld tonomoter making the dreaded eye puff a thing of the past to a digital liquid-lens phoropter to provide crystal clear refractive results, Dr. Bilkhu says, "this is not your traditional optometrist office."
And so far, her vision for the practice has been a hit. "Our patient base is only growing, Dr. Bilkhu says. "I'm so excited for the future."
---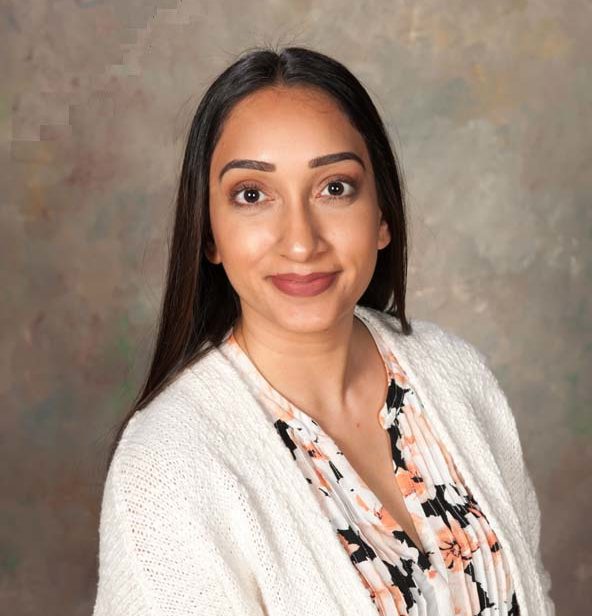 Dr. Bilkhu serves as the marketing director on the Vision Therapy Canada board and is a proud member of the Ontario Association of Optometrists. After clinical hours, Dr. Bilkhu writes articles for optometry blogs and shares her knowledge on her professional Instagram page, @dr.amritbilkhu. She is also the creator and co-host of the popular optometry podcast Four Eyes. Dr. Bilkhu interviews influential healthcare professionals making a difference in the optometry world and shares her optometric clinical knowledge along with her co-hosts.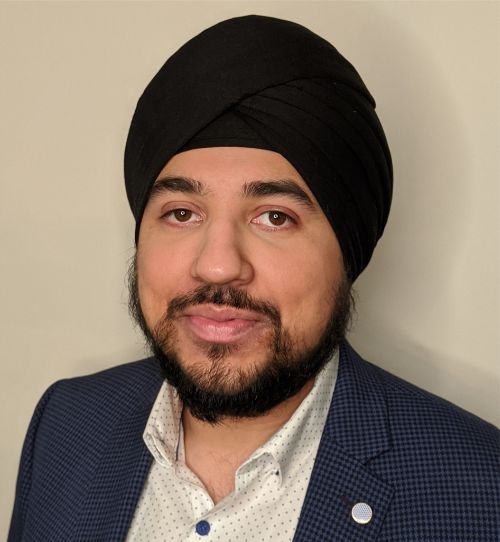 Dr. Fervaha is a proud member of the Ontario Association of Optometrists and is in good standing with the College of Optometrists of Ontario. He is comfortable completing eye exams on patients of all ages and communicates fluently in English and Punjabi. Dr. Fervaha has become a trusted healthcare provider to those seeking to proactively manage their eye health. In his free time, Dr. Fervaha loves embarking on new adventures with his wife, indulging in his passion for basketball and experimenting with new cooking recipes.
To view more design inspiration stories from WO, click here.