Danielle Gordon, OD, knows that visiting the eye doctor can be stressful for some patients, especially children and the elderly. She sees both often at her practice and designed the almost 1,300-square-foot empty unit into a space that "promotes calmness and creates a smoother and more comfortable patient experience." Dr. Gordon's practice, Sphere Optometry, now sits "in the heart of beautiful Westman Village" in Calgary, Alberta, Canada.
A COMFY COMMUNITY
Sphere is on a popular boulevard and neighbors various boutiques and locally owned eateries. Residential options range from apartments and condos to lavish townhouses and resort style retirement homes, so the patient demographic is wide. "I knew running a practice in this area had a lot of potential," Dr. Gordon says. And she should know—she lived in the area for a few years shortly after moving to Calgary. A nearby doctor's office and dentist are helpful for referrals, too.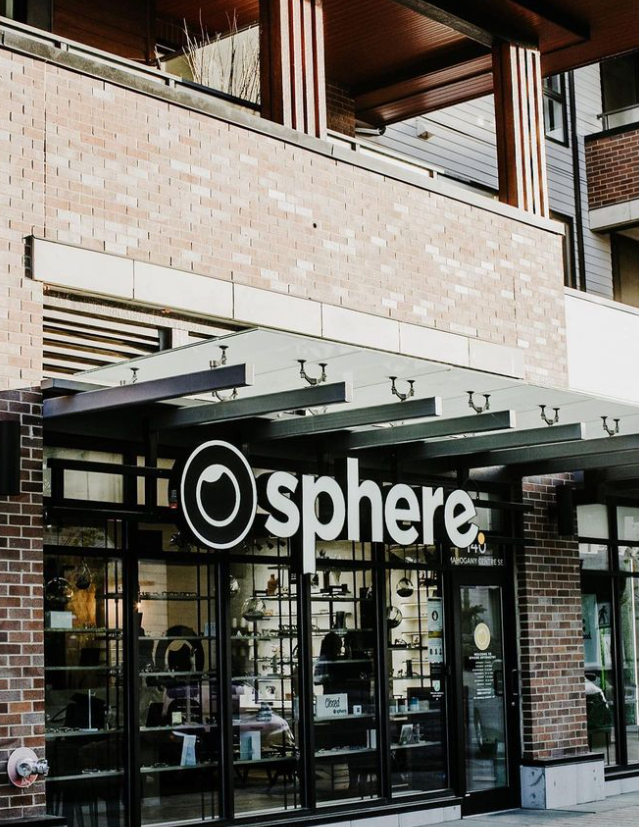 Floor-to-ceiling windows give the heavy foot traffic crowd an unobstructed view into the practice that was designed to feel like a "cozy Scandinavian living room," Dr. Gordon says. Lightly stained LVP floors complement the lightly colored millwork featured throughout the practice. One of her favorite pieces is the wooden dispensing table that was handmade by Dr. Gordon's contractor, Shane Lynn, from Trusted Developments. Dr. Gordon had the idea to use shou sugi ban, a Japanese method of burning wood to bring out its natural pattern, for the table while watching Chip Gaines tackle the technique on an episode of the design television show Fixer Upper.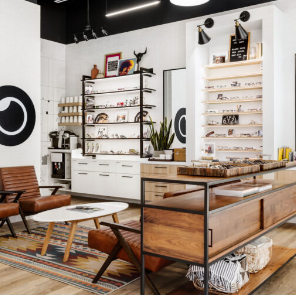 A mid-century modern inspired rug adds a pop of color to the optical side of the space, and brown leather chairs and a wooden console table warm up the front end. Green also makes an appearance throughout the practice, such as the green velvet optical chairs arranged along the dispensing table, extra seating in the two fully equipped exam lanes, a two-sided greenery display in the front window and a variety of houseplants soaking up the natural light.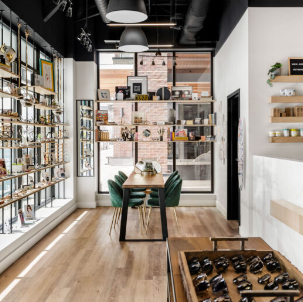 The LED lights lining the optical shelves are dimmable and can be adjusted as needed on cloudier days.
Dr. Gordon added to the "homey" feel of the practice by placing knick knacks and aesthetically pleasing art pieces on shelves. She displays vintage license plates from her late father-in-law, and many of the other pieces were found at thrift stores in town. Some of the artwork in the shop was created by local artist Josiah Taundi, and the photographs throughout the shop feature actual patients in their frames from Sphere.
People walking in immediately feel welcome. The front desk features an abstract surfboard and a textured wallpaper feature wall. A wooden ledge sits on one side of the tiled reception area, which Dr. Gordon calls the "Rx express," as it's used for quick prescription pick-ups.
Behind the front desk, a black barn door leads to the lab and staff area. The 14-foot ceilings were sprayed black to match the barn door.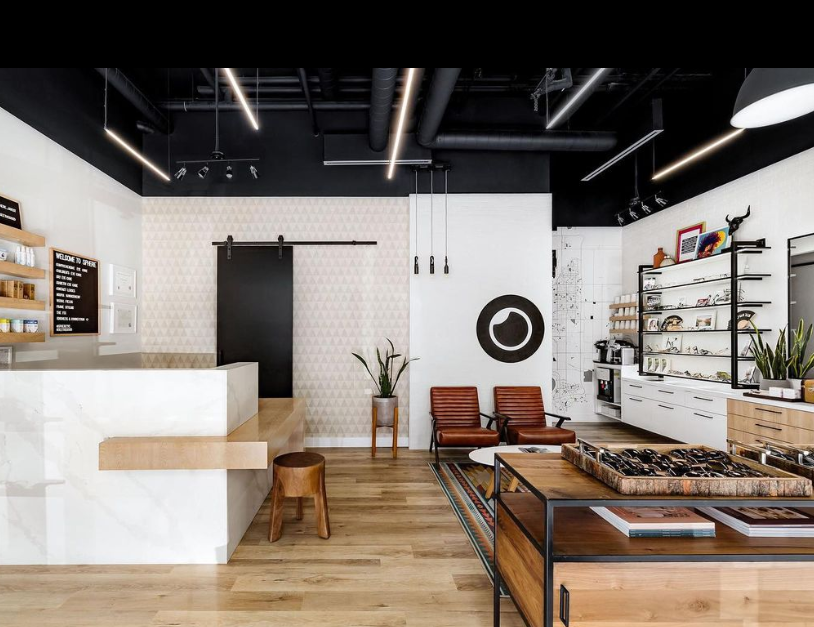 A TEAM EFFORT
Sphere just celebrated its fourth anniversary, but it wasn't always smooth sailing. After close to a year of planning and preparation before Sphere ever opened, inaccurate design plans turned Dr. Gordon's vision for the practice upside down.
"Things didn't fit where I thought they would," she says. "I begged a friend of mine, Jenelle Erickson, an owner of Smith Erickson designs, to help me in a hurry. Luckily she agreed to take over the design execution of the space and we ended up designing the space as it was being built and fixtured. It was definitely not ideal, but we had an amazing team who helped us to get it done."
Despite the fiasco, they only missed their originally scheduled opening day by a week and a half.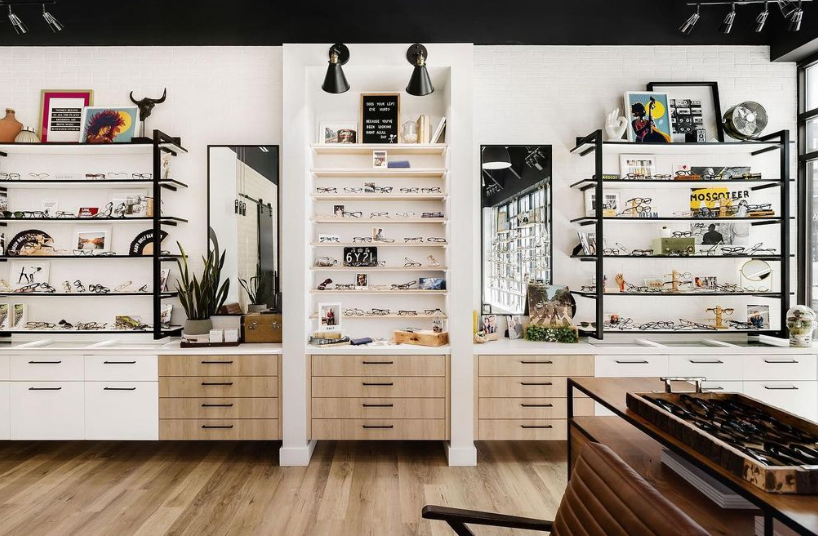 Dr. Gordon says she couldn't have done it without her team.
"Launching Sphere was such a huge undertaking," she says. "Thanks to the help of the team at Smith Erickson Designs, Trusted Developments, Insight Technologies and iSmart Consulting, the vision that was in my mind really came to life, and in some senses, better than I could have expected!"
BEHIND THE NAME
When Dr. Gordon was choosing a name and logo for the practice, she wanted something off the beaten path. "Although our full name is Sphere Optometry, I didn't want to include 'optometry' on the exterior sign, because then it has the potential to be limiting," Dr. Gordon says. "I wanted to leave the opportunity for growth in the future." Now Dr. Gordon offers a variety of services, from annual eye exams and handcrafted independent eyewear to myopia control, dry eye treatments and ocular aesthetics.
The logo design, by Meghan from Millson and Main, features a logomark that is a monochromatic cross-section of the eye. A nod to the Fit To Read Project, Dr. Gordon's philanthropic initiative she started in 2016, The "p" in the name Sphere is clipped at the bottom in order to represent a bookmark. The Fit To Read Project exists to bring books to kids who need them; new or gently used books are collected all year long for this project, and book drives are organized all over Calgary in support of Fit To Read every October, which is Children's Vision Month.
Find Dr. Gordon on her website and on social media below:
Website: sphereoptometry.ca https://sphereoptometry.ca/
Facebook: Sphere Optometry https://www.facebook.com/sphereyyc
Instagram: @sphereyyc https://www.instagram.com/sphereyyc/
Twitter: @sphereyyc https://twitter.com/sphereyyc
Check out other design inspirations from WO here.