Contact lens ordering is a pain point for many practices.
As the optometric technician at Vision Center of Delaware, Jamie Coyle has to handle a lot of tasks before and after patients see Amy M. Farrall, OD. That includes making sure that patients purchase their contact lens supplies and that the office has enough in-office trials on a regular basis. When ABB Optical Group introduced Abby, Coyle and Dr. Farrall saw this as a way to remove some of the administrative burdens off Coyle's plate every day.
It's an easy system to use. The practice's ABB account manager helped the practice set it up. Coyle entered the pricing for each of the lenses ordered through the system, which makes it very easy to present patients with a per-box cost breakdown and helps show how an annual supply plus rebate provides patients with the biggest bang for their buck.
DIRECT-TO-PATIENT SHIPPING
Best of all, the lenses are shipped directly to the patient at no charge. "That's a big benefit. Even patients who are ordering only a three-month supply can get the free shipping, and they love that," Coyle says. She recently saw one of these patients who told her how much she appreciated the reminder that the Abby system sent her when it was time to reorder. The graphics are clear and easy to read, and the message looks like it comes from the practice even while it uses the Abby branding.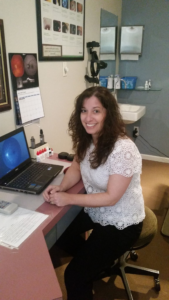 Any patient who orders less than a year's supply is delighted with the direct-to-patient shipping option. "We are in a tri-state area, we see patients from right here in Newark, Delaware, of course, but we also have patients coming in from Maryland, Pennsylvania, the rest of Delaware and even New Jersey. Most of them really appreciate not having to drive into the office for their refill prescriptions."
Because Abby prompts the patient to renew the prescription, it also creates greater loyalty. Patients aren't frantically searching online portals for a quick contact lens reorder after a few months, says Dr. Farrall. The Abby portal shows them the pricing, which is in line with online competitors, as well as any patient discounts and can approve the shipment right away.
ALL CONSUMERS WANT CONVENIENCE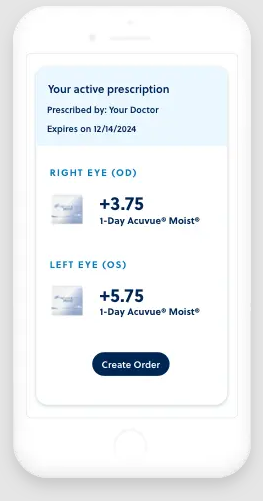 Contact lens patients are no different from other consumers in many ways, says Coyle. "The Abby system alerts them that the order has been processed, shipped and expected to arrive. We have all gotten accustomed to seeing that information with products we buy, so patients really like that their eye doctor's office can provide that same level of detail."
Dr. Farrall is a proponent of daily disposable contact lenses, and a majority of the lens sales are in this category. She and Coyle have worked hard to show patients the benefits of an annual supply, and most of their sales are in annual supplies. Before Abby, Coyle had created a worksheet that showed patients the cost breakdown and value benefits of annual supplies. Now Abby provides that same information – and reinforces it to patients who are refilling their prescription at home.
Finally, the system provides the practice with data that it can use. Coyle keeps the dashboard open so that she can tracks the metrics shared there. "If Dr. Farrall wants to report on annual supply sales or some other metric, it's readily available" she says.
Dr. Farrall and Coyle know that patients appreciate the benefits of easy ordering and at-home delivery. And Coyle says that she loves the ease that Abby has brought to the ordering process. "I can feel the difference every day. Not having to accept packages, log them, contact patients – those all clear up my time. Plus it saves the practice shelf space in not having to store these lenses until the patient comes in," she says.
Coyle says the ABB Abby team has been responsive to her questions and input, and she is looking forward to continued developments in the system.
LEARN MORE
For more information on Abby, click here.
Read other success stories on WO from doctors who use ABB services here.