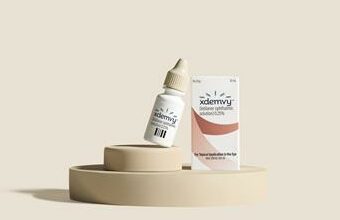 Tarsus Pharmaceuticals, Inc. announced on July 25 that the U.S. Food and Drug Administration (FDA) approved XDEMVY™ (lotilaner ophthalmic solution) 0.25% for the treatment of Demodex blepharitis. XDEMVY, formerly known as TP-03, is the first and only FDA approved treatment to directly target Demodex mites, the root cause of Demodex blepharitis.
"We are thrilled to announce the FDA approval of XDEMVY for the treatment of Demodex blepharitis and look forward to making this product broadly available to the millions of patients who have not had any FDA approved therapeutics for this disease," said Bobak Azamian, MD, PhD, Chief Executive Officer and Chairman of Tarsus. "This tremendous milestone was achieved through a successful collaboration of our talented Tarsus team, countless eye care providers and the hundreds of patients who participated in our trials. We are grateful and honored for the opportunity to introduce the first and only approved therapeutic for this disease to the eye care community."
The FDA approval is based on results from two randomized, multicenter, double-masked, vehicle-controlled studies (Saturn-1 and Saturn-2), designed to evaluate the safety and efficacy of XDEMVY in 833 patients, 415 of which received XDEMVY. Patients with Demodex blepharitis were randomized to either XDEMVY or vehicle at a 1:1 ratio and dosed twice daily in each eye over the course of 6 weeks.
EFFICACY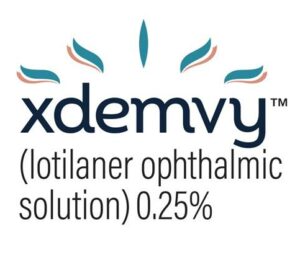 Efficacy was demonstrated by a significant improvement in eyelids (reduction of collarettes, the pathognomonic sign of the disease, to no more than 2 collarettes per upper lid) in each study by Day 43, with some patients seeing improvement as early as 2 weeks. Additionally, the endpoints of mite eradication (mite density of 0 mites per lash) and erythema cure (Grade 0) showed statistically significant improvement at Day 43 across both studies. In clinical trials, XDEMVY was generally safe and well tolerated. The most common ocular adverse reactions observed in the studies were instillation site stinging and burning which was reported in 10% of patients. Other ocular adverse reactions reported in less than 2% of patients were chalazion/hordeolum (stye) and punctate keratitis.
"After years of seeing Demodex blepharitis in my practice without an effective way to target the root cause of the disease, I'm so pleased to have a new treatment to offer my patients," said Christopher Starr, MD, Associate Professor of Ophthalmology, Director of Refractive Surgery, Ophthalmic Education and the Cornea Fellowship Program at Weill Cornell Medicine, New York Presbyterian Hospital. "Demodex blepharitis, easily diagnosed by the presence of eyelash collarettes, can result in ocular damage in multiple ways, including irritation, eyelash distention or loss and inflammation, which can be uncomfortable for patients. This new medicine is a positive step forward for the treatment of this disease in many patients who have been struggling for years."
"More than half of the patients in my practice present with Demodex blepharitis, and to date, we've not had any FDA approved therapies to treat the disease," said Selina McGee, OD, FAAO, BeSpoke Vision. "Many patients have experienced redness, crusting and overall ocular discomfort for years and I am excited to finally be able to offer an FDA-approved treatment for my patients."
Demodex blepharitis impacts approximately 25 million eye care patients in the U.S. – or 1 out of every 12 adults. It is a common yet often misdiagnosed or underdiagnosed eyelid disease that is caused by an infestation of Demodex mites, the most common ectoparasite found on human skin. Demodex blepharitis is characterized by redness, inflammation, missing or misdirected eyelashes, horizontal itching along the eyelid base and the presence of collarettes. Collarettes are cylindrical, waxy debris of mite waste products and eggs found at the base of the eyelashes.
For more information about XDEMVY and Full Prescribing Information, please visit www.xdemvy.com.
XDEMVY Indication and Important Safety Information
INDICATIONS AND USAGE
XDEMVY is indicated for the treatment of Demodex blepharitis.
Most common side effects: The most common side effect in clinical trials was stinging and burning in 10% of patients. Other side effects in less than 2% of patients were chalazion/hordeolum and punctate keratitis.
Handling the Container: Avoid allowing the tip of the dispensing container to contact the eye, surrounding structures, fingers, or any other surface in order to minimize contamination of the solution. Serious damage to the eye and subsequent loss of vision may result from using contaminated solutions. 
When to Seek Physician Advice: Immediately seek a physician's advice concerning the continued use of XDEMVY if you develop an intercurrent ocular condition (e.g., trauma or infection), have ocular surgery, or develop any ocular reactions, particularly conjunctivitis and eyelid reactions. 
Use with Contact Lenses: XDEMVY contains potassium sorbate, which may discolor soft contact lenses. Contact lenses should be removed prior to instillation of XDEMVY and may be reinserted 15 minutes following its administration.
For additional information, please see full prescribing information available at: www.xdemvy.com.
Forward-Looking Statements
Statements in this press release about future expectations, plans and prospects, as well as any other statements regarding matters that are not historical facts, may constitute "forward-looking statements." These statements include statements regarding the timing and availability of XDEMVY for prescription; potential market size for XDEMVY; Tarsus' commercialization plans for and the anticipated benefits of XDEMVY; and the quotations of Tarsus' management and consultants/eye care providers. The words, without limitation, "believe," "contemplate," "continue," "could," "estimate," "expect," "intend," "may," "might," "plan," "potential," "predict," "project," "should," "target," "will," or "would," or the negative of these terms or other similar expressions are intended to identify forward-looking statements, although not all forward-looking statements contain these or similar identifying words. Actual results may differ materially from those indicated by such forward-looking statements as a result of various important factors. Further, there are other risks and uncertainties that could cause actual results to differ from those set forth in the forward-looking statement and they are detailed from time to time in the reports Tarsus files with the Securities and Exchange Commission, including Tarsus' Form 10-K for the year ended December 31, 2022 filed on March 17, 2023 and the most recent Form 10-Q quarterly filing filed with the SEC on May 9, 2023, each of which Tarsus incorporates by reference into this press release, copies of which are posted on its website and are available from Tarsus without charge. However, new risk factors and uncertainties may emerge from time to time, and it is not possible to predict all risk factors and uncertainties. Accordingly, readers are cautioned not to place undue reliance on these forward-looking statements. Any forward-looking statements contained in this press release are based on the current expectations of Tarsus' management team and speak only as of the date hereof, and Tarsus specifically disclaims any obligation to update any forward-looking statement, whether as a result of new information, future events or otherwise.