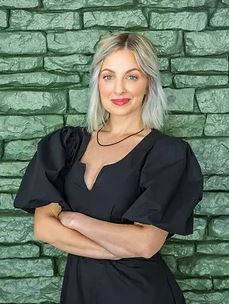 Carly Rose, OD, says that she often heard during optometry school the phrase: The eyes are an extension of the brain. "In the dry eye world, I realized that the eyelids are an extension of the skin," she says. "It really all goes together."
Dr. Rose had envisioned making a larger impact with dry eye care and aesthetics in her community of Mariemont, Ohio, since she purchased her practice, Eyecare on the Square, from her sister, Ehryn Cartwright, OD, nearly five years ago. A few months into ownership in 2018, Dr. Rose started investing in dry eye technology to start offering the services—an Oculus, Lipiflow and Lipiscan, Intense Pulse Light therapy, Luminous and radio frequency. But she could fit so much, and she was limited by the small office space at just 700 square feet.
WHEN THE TIMING IS RIGHT
Dr. Rose says that it was after the office shut down and reopened during the COVID-19 pandemic that she seriously started considering the next move for expanding her services. Appointments were booked out for 3-4 months, and she had reached her max in that space. Dr. Rose contacted her neighbors in the medical strip center where the primary care practice is located, but no one was planning to move. Then she saw a large vacancy with a day spa that had closed a few years before, but no one returned her calls to inquire about the space. She heard that a former employee may be reopening the spa, so she decided to consider other options.
A space right across the street became available—a totally open, blank slate at 1,750 square feet. It was a bit smaller than she had hoped for, but it was a convenient spot to refer patients. She moved forward to pursue that space and planned to sign the lease on Feb. 5, 2021, as fate would have it, the anniversary of the date her mom had passed away. And then earlier that day she drove by the day spa again and a message in the window said that the space was available. "It was a sign from her; I knew I couldn't sign that lease," Dr. Rose says.
A MULTI-PHASE TRANSFORMATION
Just a few months later, in the summer of 2021, Dr. Rose signed the lease on the 3,300 square foot space that was formerly the day spa. The space is quite the contrast from the small footprint at her primary care office. "Dry eye equipment is huge, so you lose space quickly," she says. "The day spa already had rooms built out, so we wouldn't have to spend as much money on lumber or time on permits and architecture," as she would have in the blank space across the street.
There was a lot to be done in phase 1 of the project, as Dr. Rose describes it. The former tenants left a lot behind, so they had to determine what they wanted to keep and what got tossed. There were walls to paint and trim work to complete, plus adding a front desk, changing out light fixtures and moving equipment and furniture down from Eyecare on the Square, just a half mile away. The new space is located on a main, busy street with lots of parking.
By December 2021, Dr. Rose was ready to launch Clear Eyes + Aesthetics, starting with her dry eye services. "I already had a dry eye patient base and equipment." The added space has allowed her to invest in additional dry eye technology: TearLab, iLux, low-level laser therapy and a Firefly slit lamp. The moving of instrumentation from Eyecare on the Square has also allowed her to add more technology in that office, as well.
That soft opening late in the year was a "'pardon our dust' situation," she says, laughing, as they continued to work on the space and prepare to launch aesthetic services. For example, the former day spa had many tubs throughout the space that have yet to be removed. They hung green velvet curtains to hide the tubs in the beginning, and patients have no idea that they are there.
In phase 2 of the renovations, they added new cabinetry and will remove the tubs. The finished space has the feel of a lounge with lots of greenery, including a beautiful living wall. "It's a blend of feminine and masculine," she says. "Men's interest in aesthetics is exploding, and we didn't want to hold men out of the conversation."
Once the patient flow for dry eye patients was nailed down, Dr. Rose added an aesthetician to offer facials, followed by a nurse practitioner and medical director for the offerings of injectables and chemical peels. She looks forward to adding more high-level aesthetics as they fine-tune that part of the practice including microneedling as well as platelet-rich plasma and platelet-rich fibrin services, which are beneficial to the skin and the eyes. "There is so much crossover with aesthetics and dry eye. It's hard to separate the two."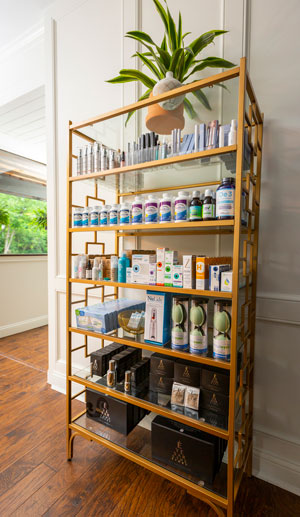 Dr. Rose also has two OD associates and patient care coordinators on the team at Clear Eyes + Aesthetics. The practice will launch its residency program next year; one of her associates has taken on the responsibility of starting up that program and creating a didactic schedule.
In the end, it was the right decision to open a second office for these services versus combining them all into Eyecare on the Square in a larger space. "One of the benefits of an external dry eye center without an optical is that it's much easier for doctors to send referrals to me," she says.
Dr. Rose is enjoying a shift in her schedule that allows her to focus on the business while still seeing patients. She works in clinical care one day per week in Clear Eyes + Aesthetics, covers doctor time off at Eyecare on the Square and spends the rest of her time working on implementation of new procedures and techniques through meetings and phone calls to get all of the details coordinated. The future there is bright and clear with lots of room for growth, she says. "This is very much phase 2 of a five-phase process." Women In Optometry is excited to see what's next!
Read other stories on doctors incorporating beauty into their practices.