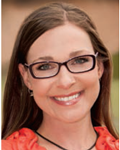 The climate in Colorado leaves many individuals susceptible to experiencing symptoms of dry eye, and Lisa Hamilton, OD, says she wanted to be able to provide thorough care and treatment for patients who were uncomfortable. So she expanded the scope of care to incorporate the full medical model at Active Eyes, the Centennial, Colorado, practice she purchased in 2002 and is subleased in Pearle Vision. She's provided the same high level of care in her second practice in town, All About Eyes. She started this practice cold in 2010 as a Pearle Vision franchise, and her husband Bobby Hamilton, ABO, manages the optical. "We had a lot of patients with dry eye and those whose symptoms looked suspiciously like dry eye whom we wanted to care for ourselves," Dr. Hamilton says. She purchased an optical coherence tomography for each office so that she could provide glaucoma and dry eye management, as well as post-cataract care.
Dr. Hamilton says that she wants to bring attention to her patients' symptoms so she can address and provide a solution. "Some patients just assume this is how their eyes are going to feel and that they have to live with it," she says. She always asks patients how their eyes feel at the end of the day, about their computer usage and the percentage of time their eyes may feel itchy or burning. "If the patient is 100 percent fine, we move on." If they report only occasional symptoms, she will recommend an artificial tear. "If they say their eyes are physically uncomfortable a large portion of the day, I talk about dry eye and how it is a condition of inflammation, and we need to treat it."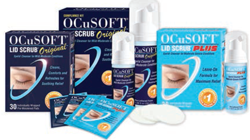 Dr. Hamilton says that integrating the OCuSOFT Dry Eye 360 program in her office has been a great way to provide solutions for a wide range of her patients and their varying severity of symptoms. She can evaluate each individual patient's dry eye syndrome and determine the best treatment from its line of products. "Blepharitis is a big problem for a lot of our patients," she says, adding that her patients have had success using the preservative-free Retaine® MGD® Ophthalmic Emulsion eye drops, the Retaine® PM™ Nighttime Ointment for overnight use and OCuSOFT® Lid Scrub® Eyelid Cleansers. Dr. Hamilton also frequently prescribes patients to use the Tranquileyes™ Moist Heat Therapy Goggles at home three times a week. The beads for the goggles can be heated in the microwave and keep the lids warm.
Dr. Hamilton has created a flow chart system for follow-up care so that there is continuity of care if patients see a different OD in her office when they return. "They can follow the same routine of care that I started," she says. Patients may be back as soon as two weeks for the most severe symptoms. They can progress to once a month, quarterly or twice a year once the treatment plan is working and symptoms are under control.
Dr. Hamilton says that she likes that OCuSOFT makes it easy for her to sell the products she recommends in the practice. "You can recommend a product, but when patients go to the store, they may end up buying something else," she says. "I can make sure that they are purchasing the product I recommend." Her representative keeps her well-stocked on all of her preferred products, she says. "OCuSOFT has all of the dry eye products I need to recommend."
There's always something new in the works with her businesses, as Dr. Hamilton continually adds services to provide better care for patients. A little more than a year ago, Dr. Hamilton began fitting specialty contact lenses for patients with keratoconus and post-surgical procedures. "These patients were really struggling with getting good vision with anything other than hard contact lenses," she says. Dr. Hamilton has referral relationships with several local corneal specialists and says she's fitting at least one or two pairs of scleral lenses a week. She frequently receives referrals from patients who are pleased with their success, too. This new service "helps me connect with patients on a personal level, and I feel like I'm impacting their lives in a positive way."
Sponsored by OCuSOFT