Advertisement doesn't have to be limited to social media or grand openings. We're featuring four practices where painted murals create a unique practice identity and serve a marketing function and even a social media photo opp.

Kim Wampler, OD, and her husband Jeff Wineinger, OD, relocated their practice Cedar Park Vision to Austin, Texas, in 2018. Joining the street art in downtown Austin, she collaborated with artist Mike "Truth" Johnson and his wife, Erin, to design a mural focused on the phrase, "All Eyes on Me," in reference to one of Tupac Shakur's albums.
Click here to read more.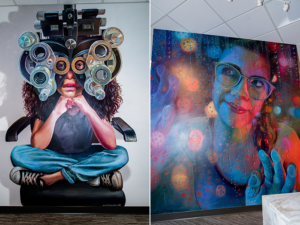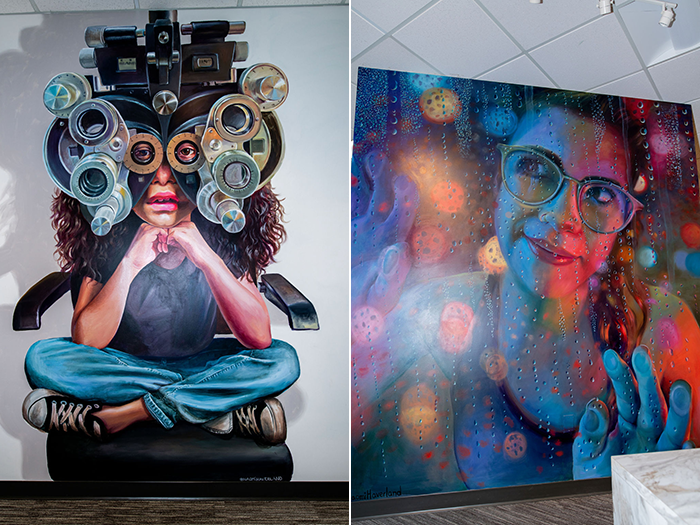 Barbra Dey and the practice partners of Roosevelt Vision relocated to a new space in April 2019 and decided to acquire art pieces to add a unique personality. There are two floor-to-ceiling murals painted by Naomi Haverland, one at the entrance to the optical department and one that runs along the hallway to the exam rooms. Custom pieces by one of the practice's patients and retro poster prints by Italian artist Paola Casagrande hang on the walls.
Click here to read more.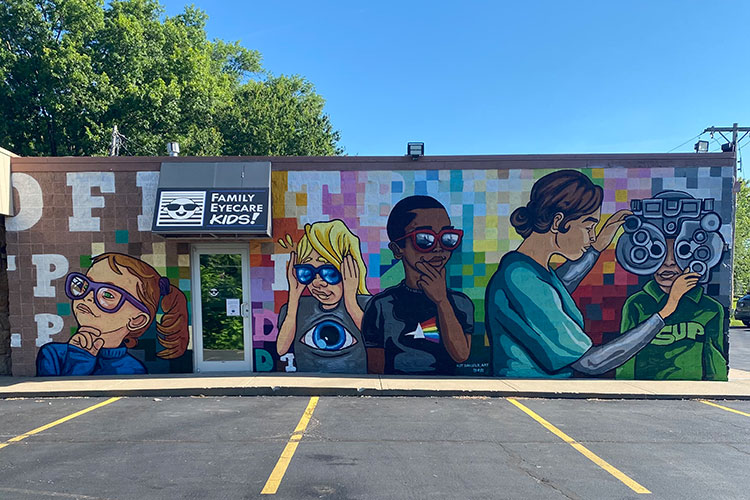 Ashley S. Reddell, OD, FCOVD, and her husband, Jonathan Reddell, OD, acquired Family Eyecare Center and Family Eyecare Kids in January 2020. The pandemic proved to be an ideal time to build out and design their space. A bright and colorful mural depicting multicultural, bespectacled children and an OD performing an exam draws attention to their practice and its pediatric services.
Click here to read more.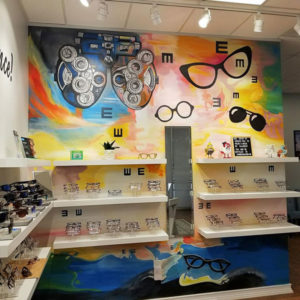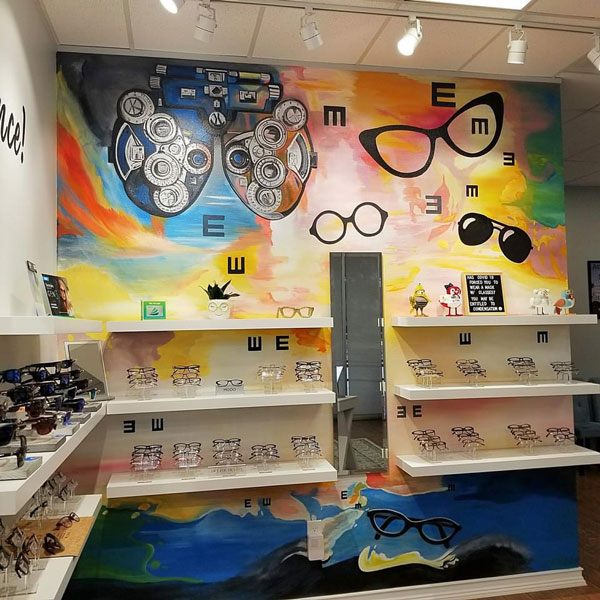 Amy Belflower, Bristol Family Eyecare office manager, and Kayla Kindla, OD, collaborated with their local mural painter Sarah Blankenship to draw attention to their highly visible front desk area. The eye-catching mural has several frames outlined in black and cascading bright, vibrant colors.
Click here to read more.
Do you have indoor or outdoor artwork that sets your practice apart? We'd love to feature it in one of our practice design stories.